Celebrating 10 years
of accreditation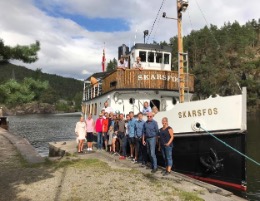 NET was established in January 2007. It was right before the financial crisis.

Since then, we have grown slowly but safely stone by stone.
We started NET, not to change the world, but with one goal: making testing and certification of dangerous goods packaging a little easier and much faster, without compromising transport safety.
On top of that we should create an exciting and safe workplace, where the creator should be part of everyday life. I think we have managed and we are proud of that.
NET had a great celebration of the anniversary with, among other things, a boat trip through time where we experience one of our most precious cultural heritages: Telemark Canal.
When the celebration is over we are going to establish a packaging cluster in Bamble, at the entrance of Telemark Canal, and maybe a new boat trip: Langesund - Varberg.
Rune Fink - Managing Director
Go back